milestone memory system
Our free email reminder system is designed with the busy parent in mind. Once we have your child's birth date/due date we will start sending you timely emails (twice a month) that coincide with your child's development. Our emails are brief, to the point and contain a link directly to your child's story. Just click the link and add your thoughts. See Samples for a few examples of Milestone Memory emails.
"remind me again" snooze button
Flexibility is key when you are a parent; so, we designed our Milestone Memory System with a snooze button. We know that timing is everything and each child develops differently. If you get an email and don't have time or your child hasn't reached that particular milestone just click the snooze button and we will remind you again in a week.
template pages
For those users who prefer to answer our questions, we have created template pages with graphics and typical questions. Even though we ask several questions, you can skip a question or leave it blank, and it won't appear in your story. This makes My Own Little Story unique to each and every family and child.
create custom pages
For those users who want to capture a special moment not included in our basic milestones, we offer a custom page feature. Add a page of text, pictures or both! You can add as many custom pages as you like.
upload photos
We know that a picture is worth a thousand words--so we have made it easy for you to upload photos to accompany the milestones you record.
share your child's story
Whether your friends and family are near or far, it is easy to keep them up-to-date with My Own Little Story. With the click of a button, you can enable your family and friends to read the latest updates of your child's story.
original hand-painted graphics
Our illustrator, Devon Galusha, created original watercolor images for My Own Little Story. The overall look of the book is simple and timeless--made to enjoy for generations to come. See Samples to view a few of our hand-painted graphics.
print a hard copy
Optional. Once you have at least 10 printable pages, you can order a printed hard cover, professionally-bound story. See Pricing for more details.
Printed books come in three colors: pink, blue and green.
Dimensions: 8.5in. high x 11in. wide with a cutout frame in the center that is 3in. high x 4in. wide. All of our books are professionally printed and bound in the USA with custom-made linen embossed covers.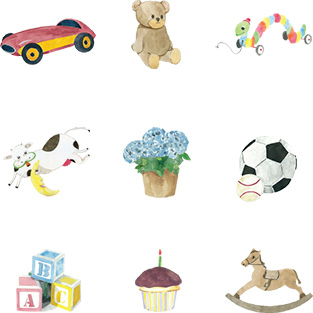 Pregnancy Milestones, including:
All About Your Mom & Dad
First Trimester
Second Trimester
Baby shower
Third Trimester
Preparation
First Year Milestones, including:
Your Arrival
First Smile
Favorite Foods
Sitting
Favorite Games
First Words
Second Year Milestones, including:
Talking
Eating
Dancing
Imitating
Dress-up
Artwork
Plus holiday and "landmark" milestones, and you can choose to add as many photo pages or even blank pages as you like!