ABOUT MY OWN LITTLE STORY
How an inspired mom created My Own Little Story
As a busy mother of three, I have laid in bed numerous nights plotting how I'm going to create a picture-perfect baby book for each one of my boys. I want to remember the first time each one of my children rolled and crawled, walked and talked; I don't want to forget when my oldest got his first haircut or when my youngest cut his first tooth. But let's face it - our world is busy, chaotic and fast. Who has the time to put one baby book together...much less two or three? Between careers, parenting and life's obligations, there hasn't been an easy way to document each magical moment - until now.
I created My Own Little Story to make baby booking as easy as responding to an e-mail and as fun as talking to a girlfriend. With My Own Little Story, all you have to do is register online and we will walk you through the rest. You're expecting? Then please register while you're pregnant and get a head start on making those memories last a lifetime. We will prompt you for photos and fun facts, all you have to do is register. As soon as you're ready to hold your baby book, just click and order.
Enjoy, laugh, remember.
"My 17-month-old says 'hangaburg' for hamburger and barks every time he sees a dog - I say I'll never forget these magical moments but I know if I don't write them down, I surely will forget. With My Own Little Story, we will not let you forget!"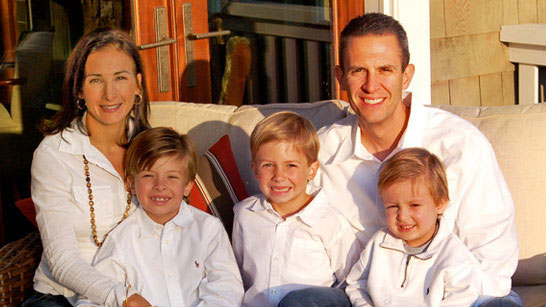 About the Founder,
A mom of three boys living in Southern California with her husband. She grew up in Glendale, CA and attended college at The University of Arizona where she graduated with a degree in Business, Economics. She worked in the investment industry for ten years before she becoming a full-time mom. She began developing the concept of My Own Little Story on Mother's Day in 2007.
She much of her ability to see this project through to her support network, which includes her husband, her circle of friends and her blogsite community. Both My Own Little Story and The Inspired Mom were programmed and developed by Dice Media. Their team has been invaluable in making her vision come to life.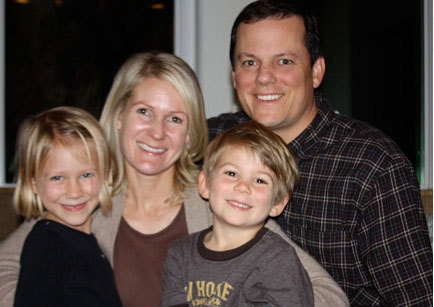 About the Illustrator, Devon Galusha
Devon Galusha, a Los Angeles native, is the talented artist whose watercolor paintings appear throughout the book. Her passion for visual arts as a child led her to a degree in art history from Vanderbilt University. Devon applied this combination of skills working for Sotheby's auction house and later at a custom furniture company founded by her father. Devon and her husband Greg live in Manhattan Beach, California with their two children, Hope and Graham.
Devon had a great deal of input on the overall look of the book and her creative influence has been invaluable to the finished product. Her watercolor illustrations are available on note cards and other baby items featured in Our Little Store.
In the near future, you will likely see a beautifully illustrated children's book also written by Devon Galusha. Stay tuned.
Frequently asked questions
This is problem that has to do with the web broswer you are using. Sometimes your browser remembers old data instead of the new. In order to correct this, you need to empty your cache. Each browser has different instructions for "Emptying the Cache". I suggest you "Google": How to empty the cache on Firefox, Safari, Internet Explorer......or whatever browser you are using. If this doesn't work, contact us: info@MyOwnLittleStory.com.
The reason that your photo is flipping has to do with the "coding" embedded in your photo. If you just rotate it on your screen, it won't change the coding. In order to recode the photo, you must first choose the EDIT function on your photo display. Click to rotate the photo, then be sure to SAVE the changes by clicking DONE or SAVE. If this doesn't solve the problem, please contact us: info@MyOwnLittleStory.com.
Yes, we want My Own Little Story to work for children of all ages. You can work your way through each of the milestones manually. Just click on the table of contents and start filling out the pages.

Yes. Just go to our Own Little Store and purchase a gift certificate for a family member or friend. We will send it directly to them! They can purchase products from our store or apply it toward a book when they are ready.

Yes, whether you have twins or several children of different ages, we have made it simple to add stories. After you log on, select "My Stories" from the top menu. Using the right hand menu select "Start a New Story" and you will be prompted what to do next.

Yes, at any point during the process you can change the color scheme/theme of your story. Choose the story you want to change by clicking on the title of that story. From the right hand menu, select "Edit Story Details and Theme." Scroll down to the bottom of the page where you can select a new theme.

There are several advantages to using My Own Little Story. First is our Milestone Memory System which prompts you, via email, to record the details of your child's life. No other website offers this valuable service...especially not for free! Second, our hand-painted graphics are beautiful and timeless. The finished product is a high end, linen embossed hardcover book which you can treasure for years to come! These are just a few reasons to choose My Own Little Story. Try it and we just know you will find may more reasons to love our books and products.